Stiebel Eltron Tempra 24 Trend Electric Tankless Water Heater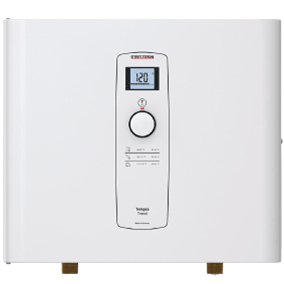 Stiebel Eltron Tempra 24 Trend
MSRP:

US

$

824.00
Our Price: US$
643.00
You save: $181.00


or
Choose Refurbished
3rd Generation (White)

Limited Quantity of Factory Refurbished units available.
Save an additional $156.25!
- more info -
US$486.75
The new Tempra 24 Trend replaces the discontinued Tempra 24B.

It offers all the same features of the Tempra 24B, with a new digital display, in a modern white powder-coated case.
The Stiebel Eltron Tempra 24 Trend electric tankless water heater is one of our most popular models. It is a powerful 24 KW electric tankless water heater designed for moderate flow rate applications in cold climates where the incoming water temperature can drop below 45°F. It is also commonly used in southern climates for applications with high flow rate requirements up to 5 gallons per minute (large Roman-style or jacuzzi tubs, simultaneous showers, etc.), as well as for commercial applications.
Maximum Flow Rate in Gallons Per
Minute at 105F Output Temperature
Incoming Water Temp:
Flow Rate (GPM)
40F
2.5 GPM
45F
2.7 GPM
50F
3.0 GPM
55F
3.3 GPM
60F
3.6 GPM
65F
4.1 GPM
70F
4.7 GPM
75F
5.4 GPM
* This chart is based on 240v power input. Please see
brochure for temp rise chart based on 208v input.
Like all Tempra Series tankless water heaters, the Tempra 24 features a convenient dial selector which allows you to set the desired output water temperature at any level between 86 and 140F. Most importantly, it is one of the only tankless water heaters on the market that features a true thermostatic temperature control and full power-modulation based on both the incoming water temperature and the water flow rate. In layman's terms, the Tempra 24 will automatically sense the water flow rate and temperature, calculate how much power is needed to do the job, and will apply exactly that much power so it can precisely maintain the desired output temperature regardless of whether the flow rate changes or not. The result is the most precise temperature control of any tankless water heater on the market today!
Stiebel Eltron Tempra 24 Trend Specifications

Thermostatically Controlled?
Yes, temperature control and full power modulation based on flow rate and incoming water temperature.
Digital Display:
Yes
KW
24 KW @ 240v / 18 KW @ 208v
Voltage:
208 - 240 volts / single phase / 50 - 60 Hz
Max. Amps:
100 AMPS @ 240v / 88 AMPS @ 208v
Breakers Required:*
2 x 50 AMP (240 volt, double pole breakers)
Wiring:*
Minimum 2 x #8 AWG Copper (depends on local codes)
Dimensions:
16.6 x 14.5 x 4.6" (42 x 36.7 x 11.6 cm)
Weight:
15.4 lbs (7.3 KG)
Pipe Fittings:
3/4" NPT
Energy Efficiency:
99%+
Activation Flow Rate:
0.50 GPM / 1.9 LPM
Max. Water Pressure:
150 psi
Warranty:
Manufacturer's 3 Year Warranty
Safety:
ETL Listed (USA & Canada) - complies with both US and Canadian safety standards including ANSI/UL499 and CSA-E335-1/3E-94.
Protection:
microprocessor-based thermostatic temperature control (flow rate and temperature modulating) with thermal hi-limit cut-out switch monitoring each heating module
Please note: A minimum 150 AMP household electrical service is highly recommended and will likely be required to install this model. If you are unsure of your electrical capacity in your home, please consult your electrician or contact us for assistance before ordering.
* Breaker size and wire gauge must meet all applicable local, state, provincial, and national electrical codes for your area - these are only guidelines that will apply to most installations. Some codes require use of electrical sub-panel for installation, especially when heater is not mounted within line-of-sight of the main electrical panel. Wiring should be sized to maintain a voltage drop of less than 3% under load. Please consult your electrician for more details.