Stiebel Eltron SHC-4 Mini Tank Point-of-Use Water Heater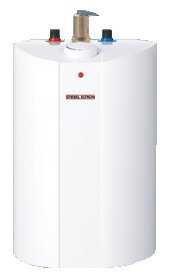 Stiebel Eltron SHC-4
MSRP:

US

$

269.00
Our Price: US$
219.00
You save: $50.00


or
Choose Refurbished


Limited Quantity of Factory Refurbished units available.
Save an additional $82.50!
- more info -
US$136.50
The Stiebel Eltron SHC-4 mini-tank point-of-use water heater is ideal for bathroom sinks, kitchens, commercial washrooms, and a wide range of other point of use applications where only a small amount of hot water is required during each use (hand washing, etc.). Due to its small size, the SHC-4 conveniently fits directly under the sink or adjacent cupboard or closet, so it delivers hot water to the sink almost instantly. By locating the heater right near the point-of-use, you can also eliminate thermal heat loss commonly associated with long pipe runs. If the SHC-4 can supply all of the hot water needs for the room, in new construction applications, you also eliminate the need to run a hot water line all the way from the main central water heater which can save you significant money in plumbing and material cost.
The Stiebel Eltron SHC-4 Mini Tank Water Heater features a glass lined tank and excellent insulation to substantially reduce stand-by heat loses in comparison with conventional tank water heaters. Lightweight and compact, the SHC 4 mounts to directly to the wall or the side of the cupboard with a sturdy bracket (included). Once it is filled with water, simply plug it into a standard 110-120V electrical outlet. With only an 11 AMP electrical current draw, no special wiring is necessary!
Temperature & Pressure (T & P) valve included.
Warranty: 6 year warranty on tank, 2 years on other components
Stiebel Eltron SHC-4 Mini-Tank Water Heater Specifications

Thermostatically Controlled?
Yes
Maximum Temp Setting
140F (60C)
Nominal Water Volume
4.0 gallons (15 L)
Watts
1300
Voltage:
110 - 120 volts / single phase / 50 - 60 Hz
Max. Amps:
11.3
Dimensions:
19.75H x 12.6W x 12.5D" (50 x 32 x 31.8 cm)
Weight:
19.8 lbs (9 KG)
Pipe Fittings:
1/2" NPT
Recovery Time:
27 minutes
Max. Water Pressure:
150 psi (10 bar)
Safety:
ETL Listed (US/CAN)
Protection:
Temperature & Pressure (T & P) relief valve included
*Please note: The SHC-4 can be plugged into a standard 110/120v electrical outlet however, we recommend that the outlet be dedicated to the water heater.
* Breaker size and wire gauge must meet all applicable local, state, provincial, and national electrical codes for your area - these are only guidelines that will apply to most installations. Please consult your electrician for more details.