Stiebel Eltron SHC-2.5 Mini Tank Point-of-Use Water Heater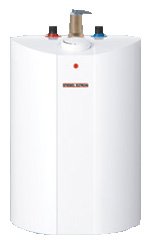 Stiebel Eltron SHC-2.5
MSRP:

US

$

219.00
Our Price: US$
189.00
You save: $30.00


or
Choose Refurbished


Limited Quantity of Factory Refurbished units available.
Save an additional $67.50!
- more info -
US$121.50
The Stiebel Eltron SHC 2.5 mini-tank point-of-use water heater is ideal for bathroom sinks, kitchens, commercial washrooms, and a wide range of other point of use applications where only a small amount of hot water is required during each use (hand washing, etc.). Due to its small size, the SHC 2.5 conveniently fits directly under the sink or adjacent cupboard or closet, so it delivers hot water to the sink almost instantly. By locating the heater right near the point-of-use, you can also eliminate thermal heat loss commonly associated with long pipe runs. If the SHC 2.5 can supply all of the hot water needs for the room, in new construction applications, you also eliminate the need to run a hot water line all the way from the main central water heater which can save you significant money in plumbing and material cost.
The Stiebel Eltron SHC 2.5 features a glass lined tank and excellent insulation to substantially reduce stand-by heat loses in comparison with conventional tank water heaters. Lightweight and compact, the SHC 2.5 mounts to directly to the wall or the side of the cupboard with a sturdy bracket (included). Once it is filled with water, simply plug it into a standard 110-120V electrical outlet. With only an 11 AMP electrical current draw, no special wiring is necessary!
Temperature & Pressure (T & P) valve included.
Warranty: 6 year warranty on tank, 2 years on other components
Stiebel Eltron SHC-2.5 Mini-Tank Water Heater Specifications

Thermostatically Controlled?
Yes
Maximum Temp Setting
140F (60C)
Nominal Water Volume
2.65 gallons (10 L)
Watts
1300
Voltage:
110 - 120 volts / single phase / 50 - 60 Hz
Max. Amps:
11.3
Dimensions:
18.7H x 11W x 10.6" (47.5 x 28 x 27 cm)
Weight:
15.9 lbs (7.2 KG)
Pipe Fittings:
1/2" NPT
Recovery Time:
18 minutes
Max. Water Pressure:
150 psi (10 bar)
Safety:
ETL Listed (US/CAN)
Protection:
Temperature & Pressure (T & P) relief valve included
*Please note: The SHC 2.5 can be plugged into a standard 110/120v electrical outlet however, we recommend that the outlet be dedicated to the water heater.
* Breaker size and wire gauge must meet all applicable local, state, provincial, and national electrical codes for your area - these are only guidelines that will apply to most installations. Please consult your electrician for more details.